Click here to add a short description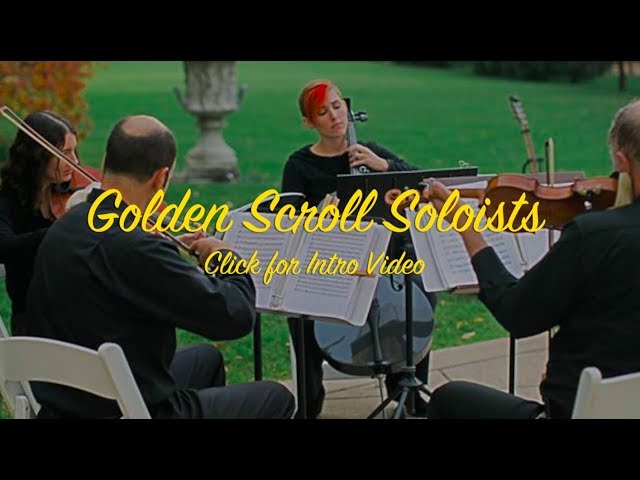 Welcome! Our ensemble has been performing for wedding ceremonies, cocktail hours, and receptions since 2005. We offer all the classical standards as well as pop and contemporary music. We have worked hard to develop a huge collection of unique music arrangements written by and for our musicians. Please enjoy our welcome video, explore our website, and reach out to us any time!
Fun options for exploring our website:
Click this text to start editing. This block is a basic combination of a title and a paragraph. Use it to welcome visitors to your website, or explain a product or service without using an image. Try keeping the paragraph short and breaking off the text-only areas of your page to keep your website interesting to visitors.
Follow us on Facebook, Instagram & Youtube. We post new photos, videos, and insider tips several times a week. A new video is posted every Friday at 4pm!
Did you know we are in The Knot's "Wedding Hall of Fame"? Read our reviews and see our awards here.
Upon booking, we send a link with our full list and next steps. (See our Video Song List or GSS Radio for many songs, but just ask if you want to see the complete list!)
2020 = 15 years of GSS

To celebrate, we'll release a new video every Friday @4pm from March 2020 - March 2021!
Since 2005, the Golden Scroll Soloists have coordinated music for and performed at over 1,000 events. Weddings, services, parties, and public concerts. On the back of a boat, on the top of a mountain; for audiences of 3,000 and intimate gatherings of 5. Even for Oprah! For the next year we will release a new, full-length video on Fridays. Be sure to catch us on social media and YouTube!
MOST RECENT RELEASE: Happy (Pharrell Williams)
NEXT RELEASE: Hallelujah (Leonard Cohen)
Golden Scroll Soloists

2020 Live Events!
3rd Annual Hartford Summer Pops Concert with GSS

Bring your lunch and a chair and join us:
HARTFORD STAGE
50 Church St., Hartford, CT 06103
Wednesday, July 22, 2020 12:00-1:30pm (rain date July 29)
Wednesday, August 19, 2020 12:00-1:30pm (rain date August 26)
Wednesday, September 9, 2020 12:00-1:30pm (rain date September 16)
With a broad collection of uniquely arranged pop music covers for string quartet, the Golden Scroll Soloists have been wowing audiences with a variety of styles for fifteen years. Similar in style to the Vitamin String Quartet of YouTube fame, the Golden Scroll Soloists meld pop, classical, and jazz into an upbeat string quartet experience.
Click this text to start editing. This block is great for showcasing a particular feature or aspect of your business. It could be a signature product, an image of your entire staff, an image or your physical location, etc. Double click the image to customize it.
/